Thursday August 12th 2010
Surfside, TX
My brother and I have been trying to find the trout for the last two weeks with little success. A few on the East side, a few at the pocket, but nothing great. Today we thought we'd try near Surfside and work our way towards the car bodies. We got into the water close to 6:30 and could see bait working. After 30 min or so, we had caught a few gafftop and croaker, no trout. So it was in the truck looking for birds working. We found some towards SLP but they were a hundred yards off shore, but it was that or nothing. A short wade before I started casting a 51MR along the sand bar and picked up a 19" trout. Caught a 15" one a few casts later and that was it for the spot. Next on to the car bodies before we called it. We found 4 or 5 fishermen already there all with bait and they were catching some fish, mostly trash though. Just as we were walking in, this guy next to us walked in too with a nice stringer of trout. He said try a PB devil eye near the point, so we went back out. My brother caught five or six rat reds casting right past the point. If you were too far in front of it, nothing. My only fish there was a sheepshead. No keeper fish there, but learned something new.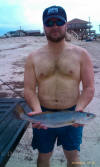 Friday August 13th 2010
Surfside, TX
We all watched the surf cam that afternoon and the water cleaned up and the wind laid down, so we made plans to try it on Friday. We started out at the car bodies but got beat up there by a squall that blew in, so we left there pretty quick. So it was on the road looking for birds and people catching fish. We drove a ways, watched a lot of people not catching fish before finally deciding to try a spot on the East side. There were two fishermen there throwing bait and catching a few fish every so often. The water was pretty clear and the surf wasn't too bad with a rouge wave every 10 or 15. It was me, Andrew, and Jeff (L-R). We got in the water and about 9:15 or 9:30 they started catching fish. Both were throwing eel type soft plastics in light colors. I switched to a TTK2 in glow and nada. Both of them said they were working it VERY slow, letting it sink to the bottom, then popping it back up. Even trying to work it like that I couldn't catch anything, but soon the fish really started getting hungry and all you had to do was cast and reel, fish on! All the fish were in one spot and if you cast to the right of it by just a few feet, you didn't get a bite. Andrew got tired of me crossing him, so I moved over to the right of Jeff, but by that time the bite had stopped. For a good 30-45 minutes the fishing was hot. We boxed 20 keeper trout with the biggest around 18" and four sand trout. I'm not sure what kind of shark (not a black tip) my brother hooked into, but it came up out of the water like you see on TV and was a good 3-4 feet long; thankfully it spit the hook. Great day in the water and my personal best with six keepers.

Wednesday September 1st 2010
Austin, TX
Another year back in Austin. I scouted this year on Tuesday and did a little work with a drag I made to knock down some sunflowers and taller weeds. I kicked up a LOT of white-wings and was excited about the prospects of the next day. A co-worker met me at the gas station on Salt Springs and we got setup near the new tank with some mojos and waited. Because of all the white-wings I saw the day before, I was passing on morning doves early on; my first bird was a pigeon. It wasn't long before the white-wings started flying and we started knocking them down. The brush was pretty thick so if you didn't see it fall, the bird was lost. I finished up my limit around 9 with 10 WW and 5 morning doves. The birds stopped flying for a little while and we did some walking so George could finish off his limit. Final count was 20 WW, 10 morning doves.


Thursday September 2nd 2010
Austin, TX
Early yesterday the birds weren't really flying over the tank , so I wanted to try a little further down the hill near the tree line and try to get the WW flying to the feeding fields. I brought out my O/U and some #6's to take a shot at the high flying WW. I was shooting really good and hitting some high shots. I went 14 for 18 and then my shooting went to shit. Over 10 more shots to finish off my limit. George was having gun issues and switched halfway through the hunt, but by the time he switched the birds had quit flying. We ended it with 15 and 6.

Friday September 3rd 2010
Austin, TX
My brother and Jeff drove up Thursday night to Dripping. Because of the late flights, we didn't rush to get to Connie's early, especially since the forecast showed it being overcast and dreary weather. Stupid me wanted to use my O/U with a tight choke at the WW's. We got rained on most of the morning and luckily I had a can of gun oil with me, so I covered the gun in oil. Nasty, but it kept the gun from getting wet. I took too many high shots, but did knock down 11 birds before we called it quits. I shot around 62 times.

I already had birds cleaned and ready to cook, so we put these in the fridge and started cooking birds. Jeff bought some Lawry's Mesquite Marinade with Lime Juice that we used to coat the birds as they grilled and sprinkled Julio's Seasoning right before we took them off the grill. Those have to be the best grilled doves I've ever had. After a quick nap, we went back out to finish our limits. Kinda like I thought, the tank was an evening place to hunt. When we arrived there around 5 the WW had quit flying for the most part, but the morning doves were in full force. Jeff and I moved around a while until we all sat right inside the tank with the decoys. I guess the front pushed down new birds because there were birds everywhere! With the good weather, I decided I wanted to shoot the 20 gauge. Big mistake, I couldn't hit shit. I still finished my limit in short order and started filming Andrew and Jeff. I'm still waiting on the video, but I'm pretty sure I got some good hits and misses. We put these birds in the fridge with the other birds and went to bed, so the picture is from the next morning. It was one of the better all time hunts out there, lots of birds, a good breeze, and not that hot.


Saturday September 4th 2010
Austin, TX
We opted for an easy hunt and decided to go back to the tank since we could just drive the trucks right to it. On the way, we got some Taco C. for breakfast and within an hour of eating it, I wasn't feeling too hot. Luckily for me the birds weren't flying, so once it started getting hot, we were gone. We shot about 15 birds and left around 10 AM to drive over to The Salt Lick for lunch. First time I've even been there before they opened, we all got the chopped BBQ sandwich. Back at Dripping we had all the birds from the day before and this AM to clean, fun, cold birds.

I called Andy on the way out and told him about how good last night was and invited him up. He said their hunting sucked, so he was gonna pack and hit the road. We met Andy at a gas station near Connies and drove back to the tank where we unloaded gear and then moved the trucks. He brought his black lab, Feebee. We put all the mojos and put the wind powered decoy on the top of the tank dam and started shooting birds. One thing to note, for $10, the wind powered decoy is well worth it on windy days. Mine fits on a 3/8" dia. six foot aluminum rod and can be put together in minutes. The four of us lined up 30 yards from the waters edge and started shooting birds. It was sure nice to have a dog for the water retrieves, and there were lots of them. Everyone starting racking up the birds and Andy really liked to shoot at the high flyers; and I thought I liked the high shots. I started feeling worse and worse and after one volley which I'm pretty sure I dropped my last two birds, I put my gun down, sat on the dirt and tried not to vomit. A little math error on brothers part in which my bird was given away gave me more bird to shoot. Normally, I'd of been happy to keep shooting, but I didn't care at this point and let them finish off my limit. It was getting pretty dark by now and everyone was picking up gear and such and I was feeling worse and worse. I got just about all of my stuff packed away before it hit, barbacoa is henceforth knows as barfacoa. Ouch. Andrew took a lot of pictures here. We also shot a collared dove, only the second one we've ever shot out there.

Video from the 4th and 5th

Sunday September 5th 2010
Austin, TX
Andy wanted to hunt the AM and luckily I felt MUCH better, so I was ready. The farmer had cut haygrazer the previous Tuesday and I thought it would be a good place to hunt, plus it had not been hunted yet. I was still in the mindset about no point in getting there early, so we took our time getting to the field. As soon as we pulled up, there were birds flying around. We put up the mojos in the middle of a cut field and sat 20 yards away from them out in the open. It didn't matter. Doves decoyed GREAT to the mojos, too bad our shooting was so bad. I ended up with 9 and I know I lost know 2 or 3 birds and missed some super easy shots. I'm sure if we were there earlier and shot better, we'd of been much closer to limits.

Monday September 6th 2010
Austin, TX
Back to the tank in the afternoon with Garett. I met him at about 4 and he followed me to the tank where we unloaded and setup the gear. The birds weren't flying as well as they had on previous evenings, but we still had birds. Neither of us shot great, but we stacked up 9 apiece before sunset. It was a great evening to hunt doves, not hot, a good breeze, and easy to find the birds. One bonus thing out there was the rainbow, there was no rain at all, but it made for a good picture. Hopefully we get many more out there.
I had planned to hunt two more days, but big rain storms rolled in and I decided it was time to head home.
Saturday September 11th 2010
Lissie, TX
My brother and I left his place around 6 on Friday to scout for teal. Bar D-3 was in rice again this year, so we started there. As soon as we got there we saw hundreds of teal flying in the air, good sign! We found lots of little pockets in the rice to hunt, but really didn't jump any birds. Pack up and head to the other fields just to check, LOTS of water and we jumped 5k plus teal! We found our spot.
Since we scouted, Trey and Matthew got there early to sign us in. On the drive out there, Andrew got a call from Trey asking if he had the right spot due to lack of water. That should of set off warning bells, but I figured it was just dark and opening day mistakes. Nope. We got there and I started driving out there and kept looking for the water. It wasn't there. I'm not good on judging acreage, but I'd say we lost 30-50 acres of water overnight. Oh well, its teal season, the decoys were out and we had mojos so lets just see what happens. We had eight guns along the levy and my plan was to let others shoot first and just enjoyed the show. Well two teal land straight out in front of me and no-one else had a shot without hitting the mojos, so I waited till they were together and got both in one shot. Great way to start the season. ;) I then waited till most had about half limits before I started shooting again. As usual with teal hunting in a big group its always a gang bang, but I'm pretty confident I got my 4 around 7:11. Everyone finished by 7:30 and Andrew shot his with just 4 shots. We helped a guy push out his battery powered UTV with a blown tire out of the rice field. The stem broke off and the tire came off the wheel. Battery powered vehicles have no place in a muddy field. I wore my hip waders this year and damn, why hadn't I always been wearing them?!?!? More pictures.
Video

Sunday September 12th 2010
Lissie, TX
The day before was also Jeff's birthday and Ginger wanted to eat lunch with her friend in Galveston. So I got home around 11, unloaded and washed the ATV, showered, and we were on the road by 11:32. Met them, ate lunch, walked around the Strand, then back on the road around 3 to drop LL off at her grandmothers, over to Jeff's, and then to the Astros game. We left the game in the 7th inning and finally ended up getting home around 10 PM. A LONG day.
With our loss of water, we went to the rice in Bar D-3. It started off fun when my brother ALMOST tipped his ATV; Andrew couldn't tell the trail from a ditch. He and Mike jumped off quickly and were able to keep it from tipping over while Brandon and I helped hold the other side as they backed it up. After fixing that and drying off his camera, we were back on the road towards the back. We start putting out decoys and mojo's and notice a truck on top of a levy not 50 yards from us at the neighboring lease. Hmm... Well shooting time comes and we hear shots all around us and have a pretty thick fog sitting on us too, oh and no birds. The truck leaves within a few minutes and we see two or three other parties on the fence line, so its a waiting game. We pick up a hand full of birds, but no real numbers until the fog burns off. Thankfully we stayed because at around 8:15, the flood gates opened and we started having large groups commit. By 9 it was all over with 6 limits; it was a weird hunt, but I'm glad we stuck it out.


Monday September 13th 2010
Lissie, TX
I had to fly back to work on Tuesday, so this was my last teal hunt this year. After our hunt yesterday, we looked at the other properties again to check on the water status. We found some water that wasn't too far from the road and we could walk too, no ATV's. This sounded good to both of us, so I met Andrew at his house around 5:15 and we headed out with 2 mojos and 2 dz. decoys. Once we parked we carried out just the minimum gear and walked a few hundred yards and put out the spread. I thought the mosquitoes were MUCH worse than the two previous days and it was pretty dark still at LST, so I was content to let Andrew shoot his four and watch. Well a group of 10+ teal come in feet down and my brother shoots three for three and I just had take one too. Next up were three birds that I let come in and as they split, I took the two on the right then got the one on the left going three for three also. Four teal with four shots by 6:46. Six minutes later my brother shoots once and he has his limit. That is the way to teal hunt, save ammo and back on the road early. A few more pictures.


Thursday October 6th 2010
Chinquapin, TX
Rick had invited me to his buddies place in Chinquapin to do some night fishing. Since it was going to be a LONG drive and a late night, I asked if I could bring Andrew as a way to split gas and help me stay awake on the drive back. We arrived after getting a little lost on the way down and started fishing as soon as we got there. The tide was out and the current was slow, so we had to be careful not to get hung up on the oyster. Ha, we got hung up all the time. He wasn't kidding when he said to buy the cheapest tackle because you are going to loose some; not if, but when. I caught most of my fish on some 2" glow minnows on 1/16 oz. jig heads and Rick caught his on some called "Lil' Fishes." Everyone caught a LOT of fish, but not too many keepers. I also caught a lot of rat reds, but no keepers. Andrew and I called it at 4 AM with 12 keepers between the two of us. After a long nap, I cleaned fish and found they were all full of shiners and a few shrimp. All of these fish were thick, even the 15" trout had a good size fillet on them. Fun trip, we learned a lot about fishing a new environment.

| | |
| --- | --- |
| | |
Saturday October 30th 2010
Lissie, TX
I met Trey out at the lease on Friday to see what was in the air and how the fields looked. Dry dirt is how our fields were, but there were TONS of specs in the area. I don't think I've ever seen that many specs this early in the year. A few bonus cranes too. Friday was cold, windy, and cloudy; Saturday was just the opposite. We knew the hunt was going to suck, but it was opening day, so we made plans to try to shoot some geese anyways. Later that night I get a text from Rick seeing if Andrew and I wanted to hunt with him. Hell yes we did. I called him and we were both in. Nice an early too, meet Rick at the Shell station at 6. ;) After some nascar driving we park near a rice field and start walking to the blind. All the decoys were already setup, so we just had to rig up the mojo, jerk string, and duck butts. Good time to find out my mojo battery was dead, so I ran back to the truck for a spare. Fun run in waders. I made it just in time for the teal show. The game plan was to pass on teal and wait for the bigger birds. Well not everyone wanted to pass on those. The shooter on the far right shot at anything and everything. It wasn't long before he was done and chiding us for not shooting. I'm glad I waited, my first bird was a drake pintail, great way to start out the season. I ended up with my six of two widgeon drakes, gadwall hen, pintail drake, redhead drake and one teal. Andrew shot pretty similar only with a pintail hen and a spoonie. Great way to start the season, and since the weather looked the same on Sunday, I slept in.
Tuesday November 2nd 2010
Lissie, TX
A front blew in on Monday night and I was gonna try to get some geese on Tuesday. It was raining REALLY hard as I left the house and everything got soaked. I got so wet just loading the truck I had to change before I left the house. It rained pretty much non-stop from Friendswood to East Bernard. It stopped just long enough for me to unload the ATV and get to the field. I was expecting it to be really muddy at the lease, but it either didn't rain enough or was so dry, all the water did was knock down the dust. I put out most of my brothers specs and a couple of snow flappers and waited. Didn't take long before a single spec came in. I should have waited a bit longer because I hit the bird, but not cleanly. It went down not too far and I thought I'd wait till a little later before going after him. The next bird was a juvie that I shot at about 10 yards. The first shot was so close I shot in-front of him. The snows would have nothing to do with me so I re-arranged a few times and still no luck. Finally at 10 I called it and went looking for my first bird. I never did find it.
Wednesday November 3rd 2010
Sargent, TX
I got a call from Jason Davidson on Sunday telling me he lived not too far from me know and thought he would be off during the week and did I want to try a blast and cast. Sure did. I hadn't hunted with Jason since Andrew was in grad school. We made plans to meet at his house which was off of 288 not far from 6. When I got to his house it was decided to leave the fishing gear due to the wind and rain; good move. We were the only ones at the boat launch, nice thing about hunting during the week. The tide was WAY out and Jason had to be careful to stay in the channel, a little too far off and we ran aground. Back in the channel and following the GPS we missed blind #1 and went to blind #2. The tide was really out, so we had to anchor up and carry the stuff to the blind. As we were walking to the blind the shrimp liked our lights and were coming up to the surface. I would have killed for a cast net. After getting the decoys out and the gear in the blind, Jason moved the boat and we waited. It was dark, windy, and cold, and windy, did I mention it was windy? I did not dress warm enough; good news, the waders I patched were only slightly leaking in one spot now, so that's an improvement. Not very many birds were flying in the distance but one redhead comes in and Jason rolls it. The hunt is looking over when 5 pintails come in fully committed. We shoot and drop two and I swing on a nice drake only to cripple it. Jason is kinda looking at me funny when I remind him the limit this year is two. He was not happy. He easily could of bring down my cripple and got another drake. That would be it for us. Not a great hunt, but beats sleeping in.
Thursday November 4th 2010
Lissie, TX
The weather again looked good for a goose hunt and everyone was working but Mike. Cool, we made plans to meet at my house and head out there. No rain this time, kinda weird. I told him I wore waders on Tuesday and it was totally dry, so this time I was just wearing camo pants and was gonna lay on a waterproof mat. I thought we'd hunt in some big tractor ruts and had to dig them out a little, so we got there with enough time to put our all the decoys and expand the ruts. Mike was wearing waders and after we were done he was begging to change. So back to the truck where he put on camo pants and crocs. Yep, that is how dry the field was. After sticking the ATV in the ditch we laid in the ruts and waited. The first bird came in from Mike's side and I let him fire twice before I dropped it. Cool, no skunk. Next up were a group of five or six birds, I let Mike shoot first and I see one just crumple so I switch off his bird and drop a nice mature bird. When I look over for his bird it recovered and is flying away. Damn. I'm limited out so I play backup. That wasn't needed because the next bird came in about 5 feet off the ground and Mike dropped it at 10 yards. Cool. Well then it got hard after that. Farmers started moving equipment all around the area and a bunch of combines and 18-wheelers were queuing up in our field. After 30 minutes of that, we decided to call it and go look for his bird. We drove over a few fields and ask some other guys, they never saw it. After we picked up all the decoys and are heading back to the truck something gets up all the birds in the next couple of fields over, so we get off the ATV and hunker down just incase any of them are dumb enough to fly over us. Just as the last group was flying I said this is now or never and we raise up and a single spec falls. Sweet, two man limit.

Friday November 5th 2010
Lissie, TX
I had intended to sleep in on Friday, but Andrew called me and said he and Brandon wanted to hunt. This was after I had cleaned the ATV and put away most of the gear, so I told him I was in as long as I didn't have to bring it. Cool, same basic plan as the day before, but we were going to hunt in whites and use all the SS flappers to hide. We put out a big U and all of the snows and most of the specs, but we didn't leave near a big enough landing zone. The first group were a pair that shifted to the right of us. I was the only one who had a shot, but by the time Andrew called it, they were at my 9'clock going back behind me and I shot poorly. The bird fell in front of us but I didn't think it was dead. We should have gone after it, because when we did, it was long gone. Shit, that should have been an easy double. Next up were a larger group that we dropped three birds out of, again to the right of the spread. Brandon moved down to the right this time and then of course the birds moved on us. As we were out looking for my first bird, we had three that would have just about landed in the spread. Back in the spread Brandon gets his bird, so we only need one more. It comes in and everyone misses, well hits it, but not kill it. I luckily got hung up on my jacket, so I fully stand up and swing on it and bring it down with the new Remington Hyper Velocity 1700 FPS load. Three man limit; worth getting up for.

| | |
| --- | --- |
| | |
Friday November 26th 2010
Lissie, TX
I returned to Texas on the 24th and wanted to hunt the cold front that was due in the evening of the 25th (Thanksgiving). As usually we have dinner at some family friends and upon leaving their house, the temperature was noticeably colder. With just Andrew and I going, we packed light and planned on leaving from Lissie to try some duck hunting at Luling afterwards. We had a strong north wind and setup for that. Talk about a great day to hunt, strong wind, not too bad and cloudy all morning. We finished a good number of geese during the hunt, including about 50 specs and 9 snow geese. I had two birds sail that if we found would have given me 8 birds; a personal best in Texas. We ended up with 11 geese, 4 specs, 1 ross, 6 snows/blues. Lots of juvies. Really good hunt and if we both shot better, we'd should have 3 or 4 more geese.

Saturday November 27th 2010
Luling, TX
We both thought with the really cold cold front the day before, ducks would be in the area. We put out about 18 decoys and waited... and waited. Around 8:45 Andrew gave up and went to warm up. 9:15 without seeing a bird, I did the same. No ducks.
Sunday November 28th 2010
Katy, TX
Andy invited me on a hunt with him and Mike at their place near Katy. It was a recently flooded field that had not been hunted, so the prospects were good. Not much wind, so I brought the jerk string. We get to the field and after a little work of the ATV's to open water, the decoys were set and time to wait. Mallards were dumping into a field next to us and after a few group of this Andy goes over there to kick them up and look at the field. It was just a corner of a field holding a few inches of water. No birds wanted to work out spread, so we moved over there with a few mallards and took a long shot at one bird before we called it. Just not many ducks in the area.
Tuesday November 30th 2010
Lissie, TX
Another cold front was due in the night of the 29th so Andrew, Mike, and I made plans for a goose hunt. Andrew was in the process of selling off his SS as we had ordered new ones so he was down some decoys. I bought out 4 dz. SS I had and some old northwinds I hadn't used in 5+ years. We had enough wind for everyone in Texas today! It was too much, everything was noisy and hard to hear. Plus the birds had too much time to look us over and once we called the shot, they were gone within milliseconds. I did forget how good the northwinds looked if you have good wind; I wish I had painted the heads though. We adjusted the blinds a couple of times early on after the birds wouldn't quite finish. The first bird of the day was a single coming right in. It was locked up and Mike gets antsy and shoots it at 20 or so yards. Not a big deal really, but the bird would have landed. Next up I had some specs that shifted over to my left and no-one had a shot but me. We thought we could turn them, but nope. Should have taken the shot. Same thing a little later with some specs on Andrew's right. After another adjustment, we have some dark geese come in and wiffle. Someone calls out specs, but I'm thinking Canada geese as I can't remember seeing specs wiffle. They come back around and we drop one and cripple another. Sure enough, Canada geese. Our best finish was a group of snows that was right over us. One big old snow was the lowest and my brother and I each shot past it leaving it for Mike. Kinda rare, cause usually Andrew and I shoot the same bird. We drop ours and Mike cripples that big bird and it sails off. We end up with 8 birds, 4 snows, 3 Canada geese, and one spec. Not a bad hunt, if the wind had been 5-10 MPH less I bet we'd of had more.

Friday December 3rd 2010
Lissie, TX
I picked up our order of SS on Wednesday and put together some of my blues and my juvies. Craig put together all of his 20 dozen and wanted to try them out. He had a field that was in between a roost and a feeding field and thought we could pull some in, plus it was REALLY dry and we can drive the trucks into. I like that! We all met at the Shell in East Bernard and then followed Craig out to the lease. I had our front gate on my GPS and according to it, we were 2 miles from our field. We put out around 25 dz. SS and another 100 or so full bodies of snows and Canada geese. This field was fallow with little places to hide so it was whites and we used my flyers to try and cover up in. Well they looked like crap, we had 0 wind until around 10:30. There were lots of geese in the area, but the snows just wouldn't get close enough; the specs and Canada did. We had a group of Canada geese come in and called the shot wrong so we only ended up with one. Then we had two single specs that were dropped and finally a pair that folded. 5 dark geese, not bad. Easy hunt. If we only had wind...

| | |
| --- | --- |
| | |
Sunday December 5th 2010
Lissie, TX
The weather forecast looked great and I wanted to hunt, unfortunately I was the only one. Andrew was out deer hunting and no-one else replied, so it was a solo hunt. I didn't have near enough decoys, but I put out all I had ready and hoped for the best. I was grassed up well in my finisher, but the specs just would not finish. I moved around decoys 5 or 6 times and never did get any to commit. There were 5k+ geese in a field feeding behind me, so the snows just flew over and didn't look twice. Shame no-one else wanted to go, the weather was perfect, 50's, 10-15 MPH wind, and low clouds. I just needed about 3x the number of decoys and more people to call. I got skunked.
Thursday December 23rd 2010
Sargent, TX
I got in the day before from AK and Jason invited me for a cast and blast on the bay, works for me. I met him at his house under vastly different conditions than last time and we headed south. He had some buddies meeting us there so it would make 4 in the blind. Jason heads out toward the area he wants to hunt and sees some guys in the blind he wants, so we just drive down the shore line until he finds a blind that is open and looks good. The wind is slowly picking up as we put our the decoys and when I put my gear in the blind I think it looks sorta familiar. Once the sun comes up, sure enough I've seen the blind on the internet. It belongs to a guy on the fuge; nice big blind. Not long after we are setup a big group of redheads come in and we drop a handfull. A couple get away from us and before we can get back into the blind the only pintails of the day come look at us; damn. A little later some more redheads do the same thing and we drop a few more leaving us only short one for a 4 man limit. We saw more birds in the air, but it seemed every time a group would fly towards us a boat was moving and it would spook the birds. By the time we picked up decoys, the wind was REALLY blowing and the waves were getting rough. We tried two drifts with no hits so it was a long, wet, rough ride back to the boat ramp. Not bad, I got to shoot some.


Friday December 24th 2010
Lissie, TX
It was Andrew's birthday hunt and he wanted to try geese at Lissie. Fine with me. No-one had been out there in a while and a buddy who hunted near us the day before didn't do to well, so I didn't have too high of hopes. Brandon joined us so we put out a LOT of decoys plus my cranes. Too bad we didn't see or hear many geese, not sure where they all went, but it wasn't around us. We did see LOTS and LOTS of cranes. We ended up with four geese, but in hindsight we should of setup for cranes.

Monday December 27th 2010
Lissie, TX
Craig called me the night of Christmas asking me if I wanted to hunt cranes the next day. I wanted too, but I was so tired and starting to get a cold, so I told him I had to pass but what about Monday. He went out to scout and dove hunt and found lots of birds, so it was on for a dove and crane hunt for Tuesday. I picked him up at his house and we head out with my 4 dz. SS and his dozen Outlaw silhouettes. The plan was to setup the SS behind us, dig some holes and lay in and cover up with blankets and put the Outlaws around us. Weather was pretty good, cloudy and windy and we heard lots of birds while setting up, good signs. Well at first light we had geese work us and Craig dropped a spec. Little later we had some more geese and he dropped another one. We finally started to see the cranes fly but they changed their pattern and went the other way on us. One group came from behind us and they wiffled down towards the spread but just wouldn't commit. After two passes two birds come over us and we decide to take the shot, I was behind on mine and Craig brings his down. It was fun to see the cranes work.
Thursday December 30th 2010
Lissie, TX
With all the cranes near us on the 24th, Andrew, Brandon, and I tried our hand at a crane only hunt. Two days before it rained ALOT, like 4 inches. There was water everywhere and it kinda throw our plans off a bit. No blinds or blankets, so we just put the decoys behind us and we laid in a levy by some grass. We were having shit for luck these past few hunts, instead of cranes we had geese in the air all morning. We didn't even fire a shot at a crane, but for sure would of had around 10 geese if we had out a spread.
Saturday January 1st 2011
Lissie, TX
The weather looked good and we saw a ton of birds on Thursday, so I wanted to hunt, plus it was my last chance before I flew back. My buddy hunted in Garwood and invited me, but I wanted to hunt my place with my decoys, mistake. I was a little worried that someone else would get the spot, but when I signed it, I was the only one, and I was early too; cool. Once in the field it was time to start putting out decoys. Since the there was so much water, I started just putting decoys on dry parts of the field, it ended up where my decoys were spread VERY far apart. The entire spread of near 200 decoys was only 10-20 yards wide, but I think it was around 200+ yards tall. I setup all of my SS, my flyers, the spec northwinds, and started working on my snow northwinds before I call it due to the approaching daylight. I was a little nervous laying in the blind because I couldn't hear near the geese from Thursday. I texted Brett and he said he didn't hear many in his area either. First up were a pair of specs that came in pretty good, a bit over to my left. I took the shot around 15 yards and crushed the first one and missed the second one. I was seeing lots of Cacklers in the area and I had two coming right at me, but by the time they got close, I realized they were snow geese and I had been blowing a Canada call at them the entire time. The lead bird started to veer slightly to my left and I took the shot, I dropped it and the second one cleanly. I picked up the close bird and couldn't find the second bird so I went back to the blind just as I saw 8 or 9 Cacklers (sure this time) heading at me. They didn't like something and turned away. A little later I hear wings cutting through the air and see a bird coming in hard and fast on my right. I took the shot right when it was on top of me landing it with a loud smack into the mud. I thought it was a Canada until I picked it up, cool, 2 specs, 2 snows. I'm about to call the hunt when I have about 30 Canada's fly a little too close to me and I bring one down on my third shot. Not too bad, 5 birds. Then I talk to my buddy, he has 15 and a banded Ross. He thinks if we both shot well, a 30 bird hunt would have been possible... Damn... Then I spent the next 1.5 picking up everything thinking about that.

Thursday January 20th 2011
Lissie, TX
I got in the day before and wanted to hunt as much as I can before crane/duck season ended, but when I got multiple reports of geese in our field, I figured it was a good move to hunt them. Me and another member setup about 400 SS along with a few Canada bigfoots and hunted in whites. We just didn't see many birds, not sure if the rain had them spooked or what. Hind sight we should have hunted cranes or ducks. There was ALOT of water at the lease and we had a nice flat that would of been an easy duck hunt. We shot one snow and should of had a few Canadas and maybe a crane or two.
Friday January 21st 2011
Brazoria area, TX
Jason told me about some land down near the coast. Figured it would be a nice change and its not in the marsh, so I was lucky and got in for a spot for us. My brother also got in, but at a different group. When we showed up we were the only two groups that had ATVs so the ranger suggest a place back in the BACK. I got to say, the early morning ride was pretty interesting. It was dark, in deep water back in some thick woods. Jason and I got to our spot and my brother to his and we setup our decoys and waited for LST. Just before legal we could see a bunch of mallards in the air, but they didn't come in to us. I hear two shots from my brothers direction and he texted me he had a pair of mallards down, sweet. Next up a pair of woodies drop in and Jason shoots the drake. My eyes can't tell the hen from the drake apart yet, so I wait till a little more light. We hear a few more shots and hear some mallards in the are, but they don't come in. As it gets more light I can tell the birds apart and we take turns shooting the drakes. Ended up with our wood ducks and a mottled drake that came in chasing a hen mallard. Fun hunt for sure. The only bad part was it took me about 2 hours to get the ATV clean.

Saturday January 22nd 2011
Lissie, TX
We were supposed to go down to Rockport for the weekend, but Jeff got very sick and had to cancel. Rick invited my brother and I out to his place, works for me. We met him at the Shell on 90 in EB at 6:15 and followed him out to the lease. Nice thing about hunting within 10 minutes of your house, you can put out decoys and blinds the night before. The bad thing is if you are setup and the wind changes, uh oh... Oh well, not much to do now but get ready and wait. Even though its closing weekend, I still wasn't going to shoot spoonies, but teal were fair game. We really didn't have any great shots, but started dropping a duck here and there. The birds were slowing down and we called it with about 12 ducks. Half GWT, one nice BWT, and some spoonies. Nothing great, but better than being at home. Good to see all the geese in the area.
Monday January 24th 2011
Lissie, TX
Craig duck hunted the day before and did some scouting for the e-caller opener. They had a few geese on his place and there were still plenty in the area. It was supposed to be four of us, Craig and I with each 200 SS and one guy with 400 more and another e-caller. Well the one guy cancels, so its just me and Craig. Another guy met us out there after we had all the decoys set out. We had a sorta big U with us at the front and a good open spot behind us. Well the guy brought a dog that wasn't covered and wouldn't sit still. So after a few times of the dog flaring the birds, the guy moves back, but he can't fit in a layout blind. Damn... Anyways, while this is going on we have birds decoying and Craig and I are shooting them. Man talk about a cool sight. There were specs and Canada geese trying to land on us. We also had pintails working the spread in shooting range. A one point a single ross goose starts working the spread with the pintails, that was a cool sight. It didn't help that a farmer was working in the next field over, but man the weather and wind was good all day. Final count was 19 birds and I know we had 3 or 4 sail away. Craig had a FoxPro with a remote, pretty slick e-caller. Great way to start the e-caller season.


Check out the size of this ross
compared to a juvy snow
Saturday January 29th 2011
Palacios, TX
Chuck sent me a text earlier in the week about hunting if they had any birds. Thursday he said it was looking pretty poor for hunting, but then Friday he said they found the mother load. Sweet, he had room for Andrew and I to join them in a field not too far from the bay house. Ginger and I had plans Friday night for a late birthday dinner in Galveston, then afterwards we went over to my parents for a late Christmas with my brother and his gf. He was pretty tired, but I was going to drive, so all he had to do was show up at my house; 3:30 at my house was the meeting time. By the time I got all my gear together and packed and a spare gun (his Beretta broke on him on 12/24) for him, it was after midnight. A short 3 hours and 30 minutes later I was up, no Andrew. After several calls, texts, calls to his gf, I decided he was a no show and hit the road. I allowed about an hour and 45 for what should of been an hour and a half drive. Once through Bay City I sent Chuck a text letting him know where I was. He called a little later and told me where to find them and to just look for the flashing lights of the trucks; in the light ground fog they showed up from miles away. I pull in, get introduced to the other hunters and after we unload the ATVs, Tim and myself followed the guys in the field. The field wasn't bad at all, it was a disced cotton field that had green stubble growing up that the geese wanted. Chuck was pulling a trailer with his 2 wheel drive ATV, so he had to find a dryer spot to cross a little low area, but the rest of us made it out there no issues. We had 5 guys putting out about 1000 SS, so they went out in no time at all. I think it took longer to put out the back rests, blankets, and the e-caller. I actually remembered my ear plugs this time, so I was fine sitting in the middle, I was next to Chuck and to my right was Travis, who was learning to shoot lefty after losing sight in his right eye. We didn't have to wait long before the first birds were coming in. I actually didn't get my gun fully loaded, just a few shells. The first bird was between Travis and I and I'm pretty sure I hit it first. Pretty much from then till a little before 8 we had non-stop birds in the air. The wind shifted on us, so the birds didn't quite finish right in front of us, more to our right, but they were still about 20 yards high when Chuck called the shot. Before we knew it there were dead birds everywhere and cripples walking off. It was decided to chase down cripples and get a count. Something like 42. After that we rotated so our backs were to the wind. By this time the first few groups of birds still wanted into the field, so they moved over a few hundred yards and just about all of the new birds in the area went to them instead of us. We picked up a couple more birds. Finally we had about 20 birds commit, a tad bit high and we only dropped one. The hunt was called after that with a total of 45 birds. Just an awesome hunt, at one point I remember touching my barrel a bit concerned about it over heating. Early in the AM specs and canada geese landed in the spread. We even had some pintails work us into range. I bet Andrew will never forget this one; hindsight he should of just come to the house and spent the night there.

| | |
| --- | --- |
| Tim, Travis, Kenny, Me, Chuck | Me |
Sunday January 30th 2011
Chesterville, TX
After all the reports of everyone shooting geese, my brother really wanted to head out there. I was flying out the next day, so I was up for it, but hoped it would be a closer hunt. Trey had some birds scouted near Chesterville in a WW field and had permission to hunt it. Ok, that's a little closer and my brother could drive. We meet up with Trey and you can hear the geese really close by, sweet; plus the wind was blowing enough to move the decoys but not too strong. We only had one ATV, so Andrew and Trey took off for the field and I got most of the gear ready and started walking with some of it. We were trying to use as few lights as possible and not spook the nearby birds. By the time I get there Trey has over 100 decoys put out and Andrew shows up with his other bag. Trey tells us the spread design and it doesn't take long before we have the spread up, plus the flyers. Trey and Andrew each put out their perspective e-callers. Andrew hides the ATV, I put out the gun stakes and put decoys around the backrests. As LST comes so do the geese, there were LOTS of geese in the air just about all morning. Not sure why, but the geese just didn't want to decoy. There were some guys hunting across a tree line, they weren't too close, but their shots would spook our birds. Somewhere around 10, their picked up and the wind REALLY started gusting, then the birds started to work. Not sure what was the cause, but we had several groups get right over us 20-30 yards high. Two issues, Trey was out chasing a cripple so we were down to 2 shooters, and I had a SPLITTING headache, I actually threw up because of it, so we were down to 1 healthy shooter. I think we only dropped 6 birds where it should have been near 20. We didn't adjust for the really strong wind. We called the hunt with 10 birds in hand. During the hunt some geese started feeding at the far end of the WW field. My brother and Trey decided they were going to go for a crawl on them, but they took too long and some guide drove by and scared them up. This hunt was a shoulda/woulda/coulda. 10 birds could of easily been 30+.
Saturday February 19th 2011
SW, MO
I was invited to go to a spring snow goose hunt in MO with some guys from the DFW area. Gary, Howard, and Gene had been doing this for the past 10+ years and recently they invited Ali and this year myself. I'd never hunted outside of Texas (excluding Canada) and was really looking forward to this due to the great snow goose hatch this year. Plus I figured it would be my last waterfowl hunt of the year and then on to the house projects. While I was in AK, a late STRONG cold front hit Texas and the midwest. There was snow all over the area we were to be hunting and much of north Texas; that means no reason for the birds to start heading back up north. We were watching the weather and forums for reports that birds had started heading back north. Literally two or three days before we were supposed to leave the south wind really started blowing and the sun was out in force melting the snow, but just about all the fields were wet making them hard to get into; the trip is a go! I landed at IAH on Wednesday and started packing that night along with cleaning my guns. The weather was supposed to change from a high of 75 on Saturday to a low in the high 20's on Monday, so packing was fun, a mix of cold weather and warm weather gear. Ammo packing was "better safe than sorry" mode and my layout blanket and backrest instead of my finisher. I left Houston early to avoid traffic and also in no hurry, so I set cruise control around 65. My buddy Craig was hunting that morning and already sent me a picture of a band they shot and said they were seeing lots of geese heading north; sounding good. After a couple of stops to stretch (the Madisonville Buc-ee's was crazy!) I arrived at Gary's a little after 4. Howard got off work earlier than expected and they all met at Gene's and then over to Gary's where at setup in two trucks, Gary and Gene.
A long uneventful drive got us to camp a little before midnight and with a quick unpacking I crashed. We didn't have a far drive and most of the decoys were put out the night before, so we didn't arrive at the field until a little after 6. We had 10 blinds to grass up and then some shell decoy/motion stakes to put out and were ready. I was in a power hunter next to Gary and some guys from MO. It wasn't long before geese started working. This was my first hunt following the geese back up and I had no idea what to expect, but I remember thinking man he needs to call the shot as the geese kept circling lower and lower each time. The first group was lead by a nice eagle head that all the Texan's shot at. The two guys to my right weren't goose hunters and didn't know the term eagle head. The first volley must have dropped 7 or 8 birds and it seems every group about the same number would fall. Just about every single group decoyed perfect, no matter how high they were when they came over us; I swear one group was 200 yards in the air. The guides helper Pete went out with his lab to chase sailers and texted that he was bringing back a bang. Sure enough, a banded blue. The Texan's on the left hand side were pretty sure it was the same one from the first volley as everyone aimed for it. Birds were piling up and a few guys went back to the truck for more ammo. I was shooting Black Cloud Snow Goose #2 for my first few shots then backing it up with BB and BBB. I was pretty happy with the loads, they seemed to crush the close birds and the recoil wasn't too bad. I shot the water with some Federal SpeedShok BBB and man they patterned tight in a Carlson Mid-range choke. At least once, maybe twice, I was able to get off all 8 shots from my SBE2 at birds under 35 yards. One cool shot was a bird crippled and instead of flying away, it flew back over us. Gary had the best angle on it and I was watching him and saw the gun "click" and I finished up the bird. Ali saw it too and said from his side it was a cool sight. The final count was 81 birds. While the guide was out with Gene getting ammo some birds worked us and Gary and I could tell they weren't going to finish and no-one called the shot. It wasn't a feet down shot, but the birds were 15-20 yards high and should of been an easy 5+ birds. There was one other mistake when Gary was out of his blind, 3 birds did the same thing and I should have called the shot since they were over the left side; our 81 could have 90 very easily. At three we called it and Shawn had people draw straws or the banded bird and Gene ended up getting it. I was disappointed I was still bandless, but glad one of the Texas guys got it. Afterwards we cleaned them using that hitch cleaning thing. After figuring out how to use it, it worked pretty well to breast the birds out.
Some of the other guys went back out that afternoon, but we were all happy with the AM hunt and decided a shower and cold beer would be more enjoyable. That night we had some awesome ribs that Howard cooked and got to be pretty early in anticipation for the next days hunt. My first time to hunt in an Avery Power Hunter. It was pretty cool, much simpler than my finishers and lower profile as well. The only drawback is it doesn't fold as narrow as my finisher does; I'm still going to buy one if I see one for sale cheap. Gary also had a backrest and blanket combo that has been marketed by GM and a few others that is a nice simple deal. Its a backrest with shoulder straps and a power to carry gear, and a waterproof blanket with stubble straps all for $80. I'm going to buy a couple of those too.

Sunday February 20th 2011
SW, MO
Day two was even later since all the decoys were out. Three of the guys from yesterday were gone and three new ones arrived. The weather was a bit warmer but after getting rained on the day before I brought my waterproof gear, which of course means it wouldn't rain. We had an early suicide ross and Gary said it was a curse to start off that way, damned if he wasn't right. We waited for several hours without seeing any other geese and Shawn decided it was a good time to go scout, I was up for this. So Shawn, Gary, and I went out looking for geese. We were gone for 2 hours and covered a lot of road and only one saw one small group of birds, like 50 at max. They also showed me Four Rivers WMA, speechless... This one WMA puts all of Texas to shame. I was totally blown away but how much habitat there was with hunting and fishing opportunities. If Texas had something like that I bet the number of ducks wintering would jump by 25%. But back to the field where I got back in the blind and a few of the other guys went for some food. The wind shifted 180 degrees on us and was blowing 30+ when some birds started to work. We were out of position but still dropped three. Shawn had us turn the blinds around to face the other direction. One more group worked close enough for a shot and everyone unloaded with two dropping and one sailing. Pete went off after the sailer and I went into the nearby pond with his dog looking for one more. I walked a good portion of it and was about to give up when I saw it on the far side of where I was looking. He showed me a bird he picked up and it was a banded ross. There was no way to know who shot it since there were only six of us and everyone wanted to shoot, but Shawn picked 3 people to draw for it. I wasn't one of those three. :( The guys got back from lunch in-time to move blinds around and take a long nap. I think we called it at 4 and went back for a cold beer and some gumbo that Gene made. What a difference a day makes, 81 birds to 7.


Here are some pictures of the trailer we stayed in, it was pretty damn nice for a hunting camp and decorated appropriately.
Monday February 21st 2011
SW, MO
Everyone's expectations were pretty low for Monday. No-one was in a big hurry to go sit in a cold wet field and not shoot anything, so Gene and Ali went to the field to watch it while we other three went to John's house to see what Pete/Shawn thought. They both had low expectations but a phone call from Gene's about seeing geese go into the spread got everyone in gear. A quick drive to the field and an even quicker job getting dressed and we were in our blinds waiting... and napping. I think around 9 we called it and went back to the trailer to shower and pack-up. The boys had a tradition of eating at a local diner ordering something called "the mess," which after seeing it looked damn good. So after our guts were full, it was on the road back to Dallas. I kept an eye out for birds on the drove back and field after field had Canada geese and mallards in them; I really do live in the wrong state. On the way down I got a call from Craig asking me if I wanted to hunt tomorrow, sure I said. We arrived safe and sound back at Gary's and I hit the road after getting gas in hopes of getting home before midnight and getting a few hours of sleep being heading over to Craig's over in the AM. I was doing pretty good staying awake till I got to Willis. There I pulled over for a bathroom break and to stretch, then on to home right around 11.
Tuesday February 22nd 2011
Lissie, TX
I got everything unloaded and the geese on ice by midnight, then of course I was so wound up for making sure I didn't fall asleep on the drive home, I was awake till 1. Alarm went off, I was up with the loaded gear and made it over to Craig's a little early. He drove thankfully and got a call from his buddy (that we were meeting in the AM) that he was lost. 59 is pretty easy, so we gave him directions and and a little driving we found each other and he followed us to the parking spot where we unloaded all the gear. Not hunting with an ATV is a double edged sword, I sure as heck want it in the AM, but I'm really glad when the hunt is over and I don't have to clean it. So with no ATV we walked in the gear and started putting out decoys. Once they were all setup, it was time to wait. It wasn't long before a group of six started coming our way, they worked great and when Craig called the shot 5 fell including a great long shot I made. A little later someone calls out birds and we cover up. I don't see anything but they are saying its coming right in. Craig calls the shot for his buddy and I look up to see 3 shots and the bird flying away. Craig didn't even pick up his gun because he thought it was a gimme shot. A little later a group of about 20 heads towards us. I'm watching an eagle head that starts veering off to our right (I'm far right) so I'm thinking it should be an easy shot on it then I'll switch over to the main birds RIGHT on top of us. When Craig calls the shot the EG and a snow are almost 90 degrees to my right, not a good shot for a right handed shooter. I pull up and rip off all 8 shots only to connect with the snow 40+ yards away. Craig and Chris dropped one or two; it was pitiful shooting all around. I guess I should of just shot at the birds right on top of us, but I was sure I could hit the two on my right and leave the birds for Chris and Craig, oh well. A couple of more birds and it was over. While Craig was out chasing a cripple he kicked up a bunch of ducks we got to watch work the pond and even saw a hawk knock a duck out of the sky. It was a good day to hunt, not to hot, not to cold, and the clouds were very cool looking. After the hunt we went scouting and found these geese and a few more good pockets of geese in the area.

Thursday February 24th 2011
East Bernard, TX
One of the groups of geese we found was on a field Craig's buddy, David, had access too. So after making sure he knew the right spot David got permission for us to hunt it on Thursday. Craig's buddy, Chris, couldn't go and Andrew had a meeting he couldn't skip, so it was just the three of us. I drove this time and brought my bag of about 167 decoys and Craig had approximately 19 dozen. We get a call when still on Beltway 8 that his buddy has a flat tire and might need us to get him. Uh, my truck (super cab F-150) is packed pretty much full and David is on I-10 near 6, so I slow down and hope he can get the tired changed. No call still, so I exit 59 and am still driving around 60mph. Finally David calls and has the tire changed but now a police car pulls up. Still going slow we get to our exit and decide to get some breakfast at a gas station. David calls and says he is on the road just running behind, cool we still have plenty of time; Craig and I go to the field and start walking it trying to figure out the best place to setup. I can tell early on its a weird field for goose hunting. It's a damn cattle pasture, but there is goose poop EVERYWHERE! All around the tanks, near the fence line, all over the field, so I'm kind of at a loss for where and how to setup, plus its dark and I've never seen this field before. I go back to my truck while Craig is still walking around the field and pick up David. I just started driving in the field and followed them until they tell me to stop. The field is a mix of short green grass and then clumps of dead taller gray weeds. The plan is to put out some decoys on one side of the tank then work out with family size groups. I've never really hunted a field like this, so I just start putting out decoys. With three guys and less than 350 decoys, it wasn't long before that was done. The guys had layout blinds they had to pull off rice straw and then use the gray weeds to camo the blinds. A battery powered weed eater or hedge trimmer would of come in handy to cut the weeds. I was using my backrest with blanket, so I moved some decoys around me and tried to hide it, without outlining it. I think in the future I'll bring a goose shell with me to put on my legs.
It wasn't long before we had birds in the air so we covered up and waited. The birds worked really well and when Craig called the shot, five or six fell. We were about to get them but more were in the air heading our way, so we got back down and waited, next group about the same number fell. There was a crippled ross right next to me and I was thinking, cool, we'll have a walking decoy in the spread, but just about as some birds were going to finish, the ross flapped his wings like birds do and the geese in the air flared. After that we went to pick up birds. Craig and David have shot four or five bands during their hunts this year so I was hoping that streak would continue. I went to pick up one ross and could see one leg, but when I tried to flip it over the wing covered the other leg, I thought damn this could be a sign, sure enough when I moved the wing it was banded! This is the first time during any hunt I picked up a banded bird. I have a dove band, but I never noticed it until later in the day and on my hunts during the previous weekend, someone else picked up the banded birds. Great start to the hunt. Back to the blinds with close to 20 birds. The birds keep doing more of the same thing and the body count is stacking up. The birds are changing their approach each time. I was going to move to my left (I was on the far right again), but then the next group would be finish right on top of me, then the next would be to my right; so I stayed put. Sometime around 11 the birds started finishing closer to the water. One time I went out to get birds and was caught in the open by an approaching single, so I hunkered down by an old duck blind and when the bird got close, I stood up for an easy right to left shot; I crushed him with Black Cloud #2s. Later in the spread, one more single finishes right on top of me and the guys don't even bother to back me up because its a gimme shot. I must have missed 6 times before I quit shooting, I honestly think I was in front of it with the 1600 FPS ammo. One thing I noticed but failed to act on, was whenever we were caught in the open, the birds would work within range but would not finish. Ie, we would let them circle but they wouldn't ever come in feet down wings locked. I'm not sure why Craig or I didn't discuss taking those shots until after the hunt was over, but if we had shot those birds, add 20-30 to the final count. After a few more volleys we all went to the fields to look for birds. Each time we'd all come back with 5 or 6 birds apiece. On one of these trips Craig went over the fence to get two birds and David was WAY back in the field. I was over by the fence waiting to help Craig cross over when seven or eight snows came into the spread and damn near landed. We watched them fly off sans a juvie which did land. I was able to get within about eighty steps before it took off and I brought it down with one shot, and I had a witness. We both thought it was a head shot. During one of our pick up runs Craig found another banded ross, sweet! It seemed like every bird in the area that saw our spread wanted in and in badly. The decoying action was fantastic, I'm sure it spoiled me for the next five years or so, but it was worth it. Not sure where all the cranes were during the season, but we saw cranes in the air pretty much from 7 AM till 4 PM.
The birds are piling up and we are closing in on 80 and the ammo is getting low too. I brought about five boxes in my blind bag along with four boxes in this case as a backup. Craig had run out of ammo twice already in the year and I bugged him about buying the aforementioned case. Its cheap and a good way to carry extra ammo to the field. And like I said before, I drove and I didn't fully unload my truck from the MO trip, so I had a case of ammo in there still. Back to my ammo, I brought out two boxes of BC #2 and sure wish I brought more of those and put in my IC choke earlier in the day, the first few shots were 15-20 yards at max. I was wearing electronic ear and they paid for themselves on this trip. I was getting a slight headache just for the recoil of the gun, I can't imagine if I didn't have in ear plugs. David developed a really bad headache at one point and took a good nap, so for a while we were down to two shooters; but he did take some video. About mid morning we started targeting blue geese and I was able to make up for my horrible miss on the 22nd, well sort of. I had blue goose all to myself on the right and I got it, but it took me more shots than it should have. Craig went to my truck for an ammo run sometime after noon and I moved right next to the water where we had been seeing more birds finish by. When I was out picking up decoys to put around me, a handful of snows finished RIGHT over where my backrest was. David was close to it moving decoys around but he didn't know my gun was there. Craig called the shot and kept waiting for someone to shoot thinking it was David by hit gun. Damn, if I was there with my gun, four or five birds would have been a real possibility. So Craig is off getting ammo, I'm covered up and so is David when a small flock of snows start decoying. I'm in no hurry and am thinking, let them land and we'll both get some good shots. Just as the first couple are touching down David jumps the gun and starts shooting. I was able to bring down three, but if they had all landed, we should of had dropped them all. By this time I'm down to shooting some cheap PMC BB/BBB, so when Craig gets back I load up some HyperSonic Steel #1. Damn this stuff kicks! We bag eight or ten more when the Craig and David went to pick up cripples. I'm solo in the spread waiting to put down the entire flock on my own and nothing. It is around three in the afternoon and the flights have REALLY tapered off. We call it then and start picking up the spread. I go get my truck and am in the bed loading decoys when another flock comes in. No-one has a gun with them and mine is in the cab, but I'm able to make it to my gun and hit a ross that isn't quite high enough for the 1700 FPS #1, as it sails Craig yells at me to shoot a juvy that landed next to him in the tank. Damn I love juvies. When its all said and done, I shot close to seven boxes, Craig shot near six and I'm not sure how many David shot. The final count was 121 in the field (we found one more driving out) and we'd guess there were 5-10 more that walked off or just were hidden in the tall grass. Of the 122, there were not many juvies, nor many blues even though we started targeting the blues. I don't have much experience hunting e-caller season, but wow the decoying action was better than you see on hunting DVD's. I read about a few other good hunts in Texas during the same time period, so I guess it was just one of times. David was having gun issues the entire day and there were two groups I pulled up and "click," so give David and Craig good working guns with extended mag tubes, me those two jams back, and us taking the shots on all the birds that busted us along with a few other mess ups on our part and I'd bet the count could have easily been 160-180 if not more. David was gracious enough to give us the bands, so Craig and I each got one, finally my first waterfowl band! Mine was banded in Nunavut on 8/7/2002; nice old bird. Epic hunt, no other way to describe it.
We cleaned birds at my house and Craig had a buddy come over to help. David didn't want many birds, I think he only took 17, so that left 105 for me Craig and I to clean. It was fun getting all those birds in my truck bed along with our gear. The carcasses took up 4-55 gallon trash cans. I think we were all said and done around 10 that night. A long day, but damn it was worth it; I'd do it again in a heartbeat. The next day I was surprised at how sore my traps and upper shoulders were and I had a light bruise on my shoulder from the gun, but not too bad.
Some tips for next time during e-caller season, always have a case of ammo in truck, plus food, water, and aspirin! Everyone was dehydrated by the end of the day and it got a little warm. Both Craig and I thought highly of the Snow Goose BC #2. I'm for sure going to find some 1600+ FPS loads for next year.